Land-use management strategies aimed at improving soil health (e.g., compost amendments, cover cropping) have grown in popularity but impacts of these practices on soilborne plant pathogens remain unclear, despite being critical to understanding soil health outcomes. Recent studies indicate that certain practices, such as compost use, can enhance pathogen survival but also can enhance mycopathogen recruitment. Our studies seek to identify soil and plant health benefits and overcome disease risks associated with both compost and cover crop use.
Advancing Systems-Based Approaches For Co-Management Of Soil Health And Plant Disease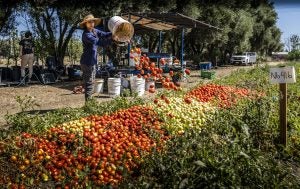 To enhance development and adoption of system-based approaches for co-managing soil health and plant disease, we are working to determine the impact of soil fertility management systems on pathogen persistence and to evaluate mode of pathogen survival and microbial community characteristics as pathogen risk predictors for organic amendments. These studies are centered on two soil-borne pathogens:
The southern blight pathogen, Sclerotium rolfsii, which survives as sclerotia, and the tomato Fusarium wilt pathogen F. oxysporum f. sp. lycopercisi, which survives in plant matter in soil.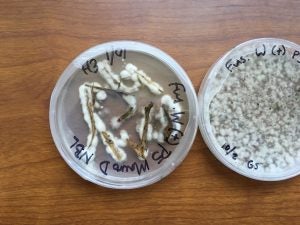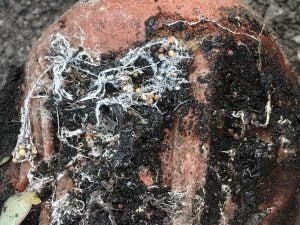 Ongoing projects include: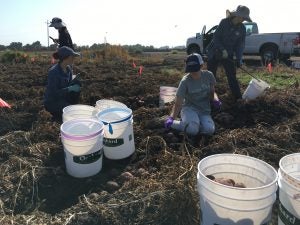 1. Comparing the effects of long-term inputs of organic versus synthetic soil fertilizers on pathogen survival on crop residue
2. Identifying biological indicators of pathogen suppression in compost-amended soils
3. Effect of composts and chitin amendments on persistence of chitin (sclerotia) versus cellulose (plant organic-matter) based modes of pathogen survival
4. How N-enhancing crops affect pathogen persistence in crop residue
related Projects
Using chitin amendments to manage southern blight (Sclerotium rolfsii) in potato
Survival biology of Fusarium oxysporum f. sp. lycopersici race 3, the cause of Fusarium wilt in tomato
Collaborating programs
 Kate Scow and Nicole Tauges. Russell Ranch Research Station. UC Davis.
Kate Tully. University of Maryland, College Park
Amisha Poret Peterson. ARS-UC Davis
Brenna Aegerte, UCCE Farm Advisor, San Joaquin Co.
Jaspreet Sidhu, UCCE Farm Advisors, Kern Co.
Funded projects
Advancing Systems-Based Approaches For Co-Management Of Soil Health And Plant Disease
Funded by USDA-NIFA (Postdoctoral Researcher Award, Dr. Kelley Paugh)
Integrating cover crops and soil amendments into conventional processing tomatoes to improve soil health and water management
Funding was made possible by the U.S. Department of Agriculture's (USDA) Agricultural Marketing Service through grant AM19010018-001-025-SCG008. Its contents are solely the responsibility of the authors and do not necessarily represent the official views of the USDA. (PI: Dr. Kate Scow)

Integrated Management Strategies for Southern Blight in Potatoes
Funded by the California Potato Research Advisory Board